1983 Mercedes maintenance
From Finninday
1983 Mercedes Diesel Wagon 300TD-T 5-cylinder history
3.0 litre
Chassis: 123.193
Engine number: 617.952
November, 2006 MBI
adjusted transmission (to extend life)
fix heater blower button
fix door locks
new starter
replace rear wiper gasket
tried to fix leak in back door (still fills with water)
December, 2006 Jiffy Lube
oil change
new radiator cap
change fluid in rear differential
December, 2006 MBI
adjust headlights
stop back door from filling up, rear drains both sides
fix rear wiper (new motor?) [postponed until leak is confirmed fixed]
connect front windshield washers, fix tank, replace grommets, replace hose from pump to valve
October, 2007 MBI
replace thermostat (was overheating)
replace oil filter housing (fix leak)
oil change
tune up
April, 2008 MBI
roaring noise at 30-60mph
it was the front wheel bearings. Repacked and greased.
blowing heater fuses all the time
cleaned connections.
rivets had popped. Drilled new holes and secured wiper motor.
trim missing on passenger door
installed used molding.
October, 2008 MBI
new brake pads (with warning indicators)
fix driver window switch
AC recharge
oil change
door trim installed
AC aux fan fuse fixed
October, 2009 MBI
oil leak

found and fixed oil leak near air filter
replaced dirty air filter
found and fixed fuel leak at fuel filter (fuel filter was not tight enough)

vibration noise

found and fixed vibration noise due to loose air filter

broken backup light

fixed backup lens and light
found missing rear axle boot
found brakes at 10%
found exhaust manifold leak. It would cost $700 to fix. Not fixing.
October, 2009 Les Schwabb
P195/70R-14 90S Eclipse All season blackwall x4
$472.16

October, 2009
December, 2009
hard to start when cold
glow plug light doesn't always come on when starting
blows lots of smoke when it finally starts
probably will use this procedure from Diesel Giant
http://www.dieselgiant.com/glowplugrepair.htm
ordered 4 glow plugs and a relay from partsgeek.com for $103
January, 2010
now it won't start
found a loose connection to one of the glow plugs, tightened it
replaced glow plug relay, still won't start
ordered air filter, fuel filter, oil filter, one more glow plug, windshield fluid
replaced both fuel filters and air filter, still won't start
replaced all five glow plugs, found 3 were bad, still won't start
found the new glow plug relay fuse had shorted, put the old relay back in, now it starts
removed hood insulation so it doesn't fall down and impact accelerator linkages
heater hose failed near number 5 glow plug and dumped all coolant
ordered a new hose from MBI
January, 2010
September, 2010 MBI
fixed engine overheat problem

new water pump
new regulator
replace belts
reseal oil leaks
new oil pan
replace alternator voltage regulator
reseal dipstick tube
replace front timing chain rail pin
reseal turbo return tube
Total of $1898
October, 2010
driver-side headlight out
replaced bulb and cleaned corroded connection
the connection still does not seem solid. I might have to replace the connector
August, 2011
John and Sam put new brake pads and rotors in front

Napa part 4885940 front rotor $36.98 x2
Napa part D311 P brake pads $59.69
Napa part 1385 oil filter $7.24

new fuel filter
new window and interior light fuses
August, 2011
driver's door window regulator has two sheered pins, window won't operate
I removed the regulator and tried to disassemble and repair, but it looks like I'll need to replace it
a new part is $297 from AutoHaus and $98 from Parts geek or $438 for an original Mercedes replacement part.
July, 2013
air conditioning is less effective than normal
took it to MBI Motors and had this work done:

found AC compressor has two of three bolts sheered off
wiring and fuse fixes to allow troubleshooting of AC
new compressor and coolant would be about $1500
decided to disable AC for $106
October, 2013
front passenger window won't operate

checking switches first, we spill a lot on those switches
disassembled and cleaned. satisfying, but didn't fix anything.
further details here: Mercedes_power_window_repair
Notes and Part Numbers
oil change procedure
Oil capacity: 8 quarts
Oil grade: 15W40 Delo 400
2 13mm bolts hold the oil filter cover
drain plug is 13mm
a little glue to hold the gasket helps hold it in place while lining up the filter
replacement bulbs

Osram/Sylvania Light Bulb
1979-1987 Mercedes Benz 300TD
12V - 10w - Tail & Clearance Lamps.


Osram/Sylvania Light Bulb
1979-1987 Mercedes Benz 300TD
12V - 21w - Blinker, Stoplight & Backup Light. Nickel base


Halogen headlight
High and low beam
H6024

replacing fuses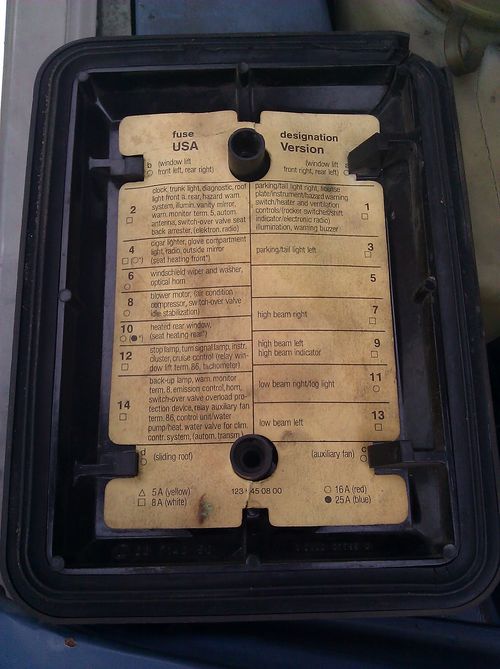 tire size

P195/70R14 90S

fuel filters
There are two filters, primary and secondary.
The primary is the smaller, in-line plastic filter.
The secondary is the larger, metal filter that looks a lot like an oil filter.
These need to be changed regularly when running on bio-diesel or else power is significantly reduced.
dashboard indicator light
This warning light was puzzling, so I had to look it up in an owner's manual: